Blog
Design at Vine: Everyone needs an editor
We launched Vine about two weeks ago, and we're already amazed at how a community of creators is using the new art form. People are sharing moments in unique ways, and that makes us smile.
As we share in the excitement about what you are creating, we'd like to take a step back to offer some insight into our design approach for Vine. Design is more than aesthetics and pretty pixels; it's product decisions and experiences that make a service enjoyable visually, functionally, emotionally.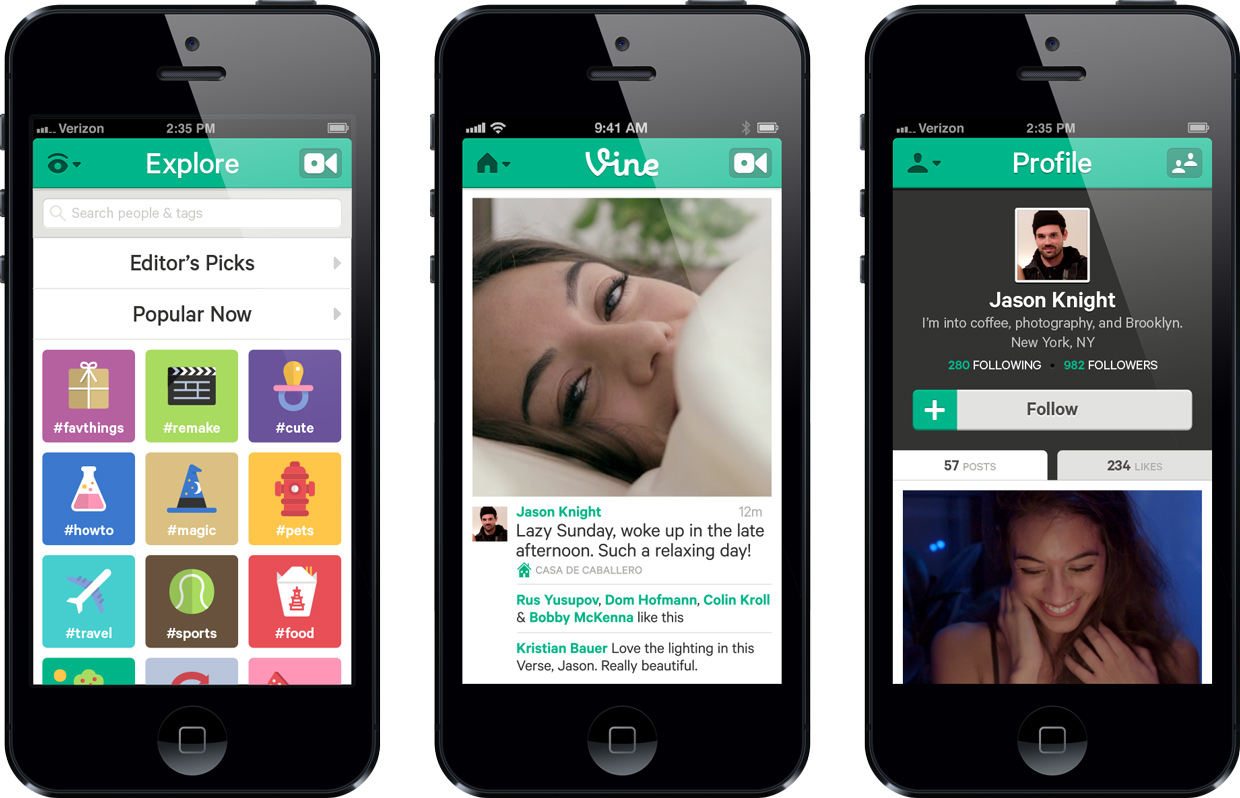 As we built Vine, we kept these key principles in mind:
Strive for simplicity. An interface should get out of the way. People should be able to focus on being creative, not on how to use the app. In many ways, interface design is like film editing: if you notice it, it wasn't done well.
Iterate, again and again. From the start, we wanted to create a new way to capture life in motion. (Admittedly, we didn't know what that would look like exactly.) We actually redesigned the app three times before going live. While Vine is now live, that spirit of constant iteration remains core to the decisions we make.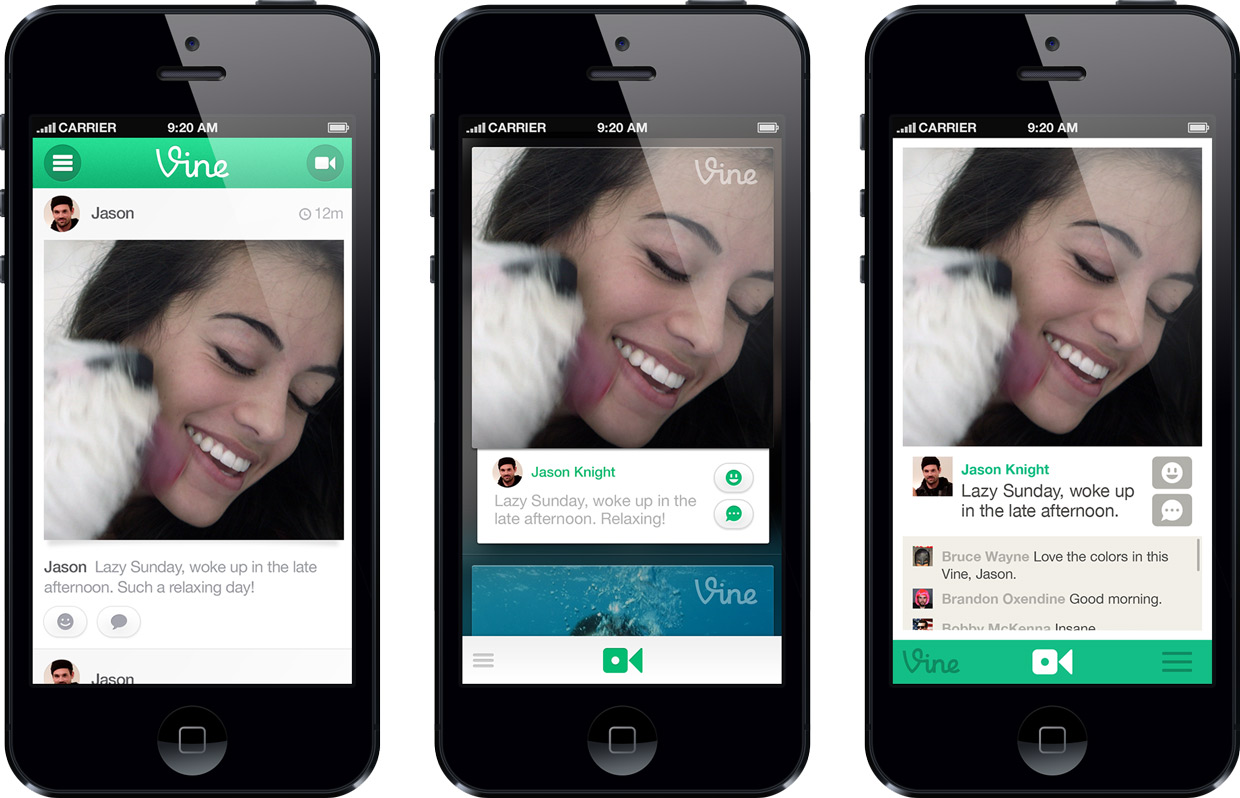 Early Vine visual design explorations
Be thoughtful. Each interaction, feature and design element should help you share the moments of your lives. We didn't want to add anything simply for the sake of adding it. An earlier version of Vine had a persistent title bar and bottom menu; we decided to remove the bottom menu because it took away from the space where videos lived.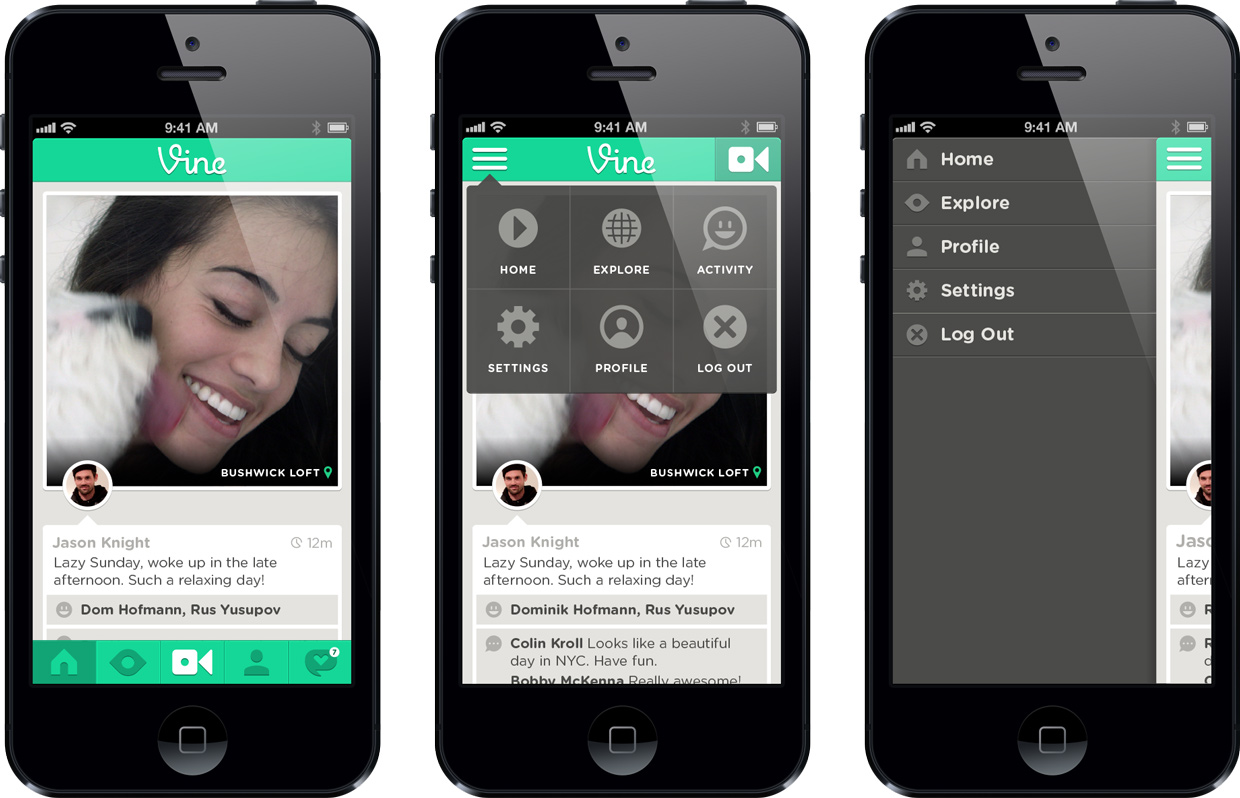 Early main navigation design explorations
We think these principles hold across the service, from the number of menu options to the prevalence of smiley faces throughout the mobile app (more on that in a future post).
Here's another example: Vine is a video service without a play button. This was intentional. Old things are beautiful, but new things should look, well… new. That's why Vine doesn't have a play button. It also doesn't have a pause button, a timeline scrubber, a blinking red light, or dials and a brushed-metal finish to give you the impression that you're using a dusty video camera.
There's only one nod to traditional filmmaking — the create button, which is an abstracted video camera.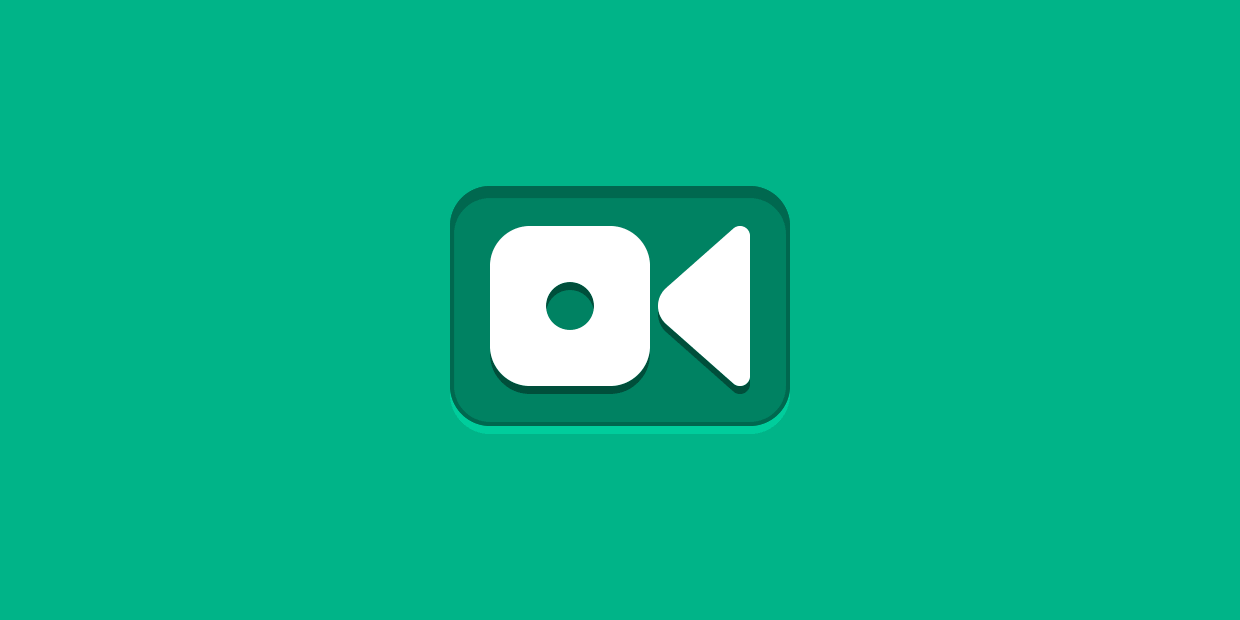 The create button is the only reference to traditional filmmaking in the entire Vine app
We thought hard about exactly what Vine needs to do, and asked ourselves what core actions were necessary for you to see and share life in motion. Then we designed it to do exactly those things, and nothing else.
That's the sort of design philosophy you'll see in action as we continue to develop Vine. Of course, as the service evolves, you're going to be an important part of its growth. We've been loving your feedback and look forward to getting more of it. After all, everyone needs an editor.
Posted by Rus Yusupov (@rus)
Co-founder & Creative Director, Vine
Tweet
ziyanthesis reblogged this from vineapp